National News
Driven By Purpose – Leadership In Uncertain Times
by OzAdmin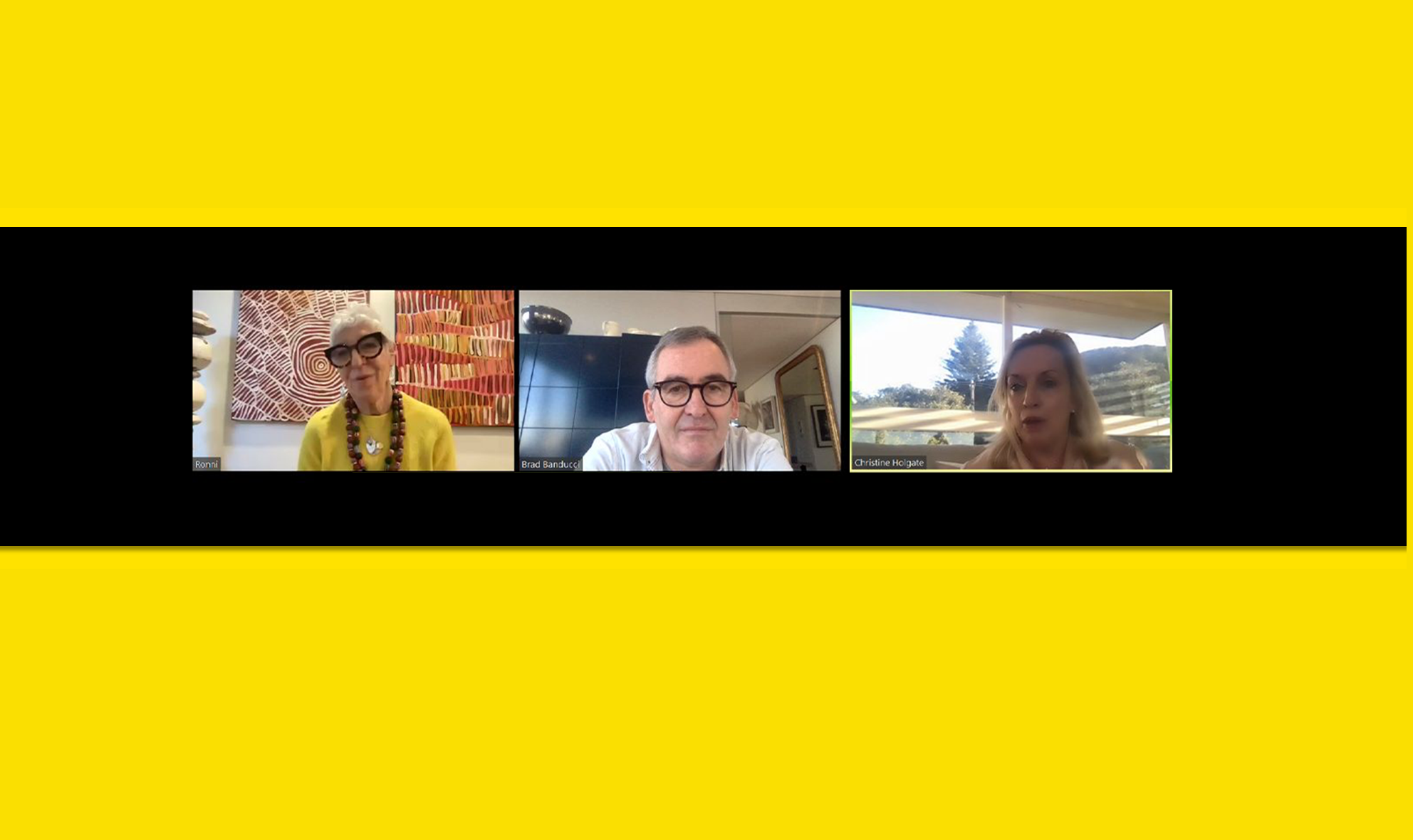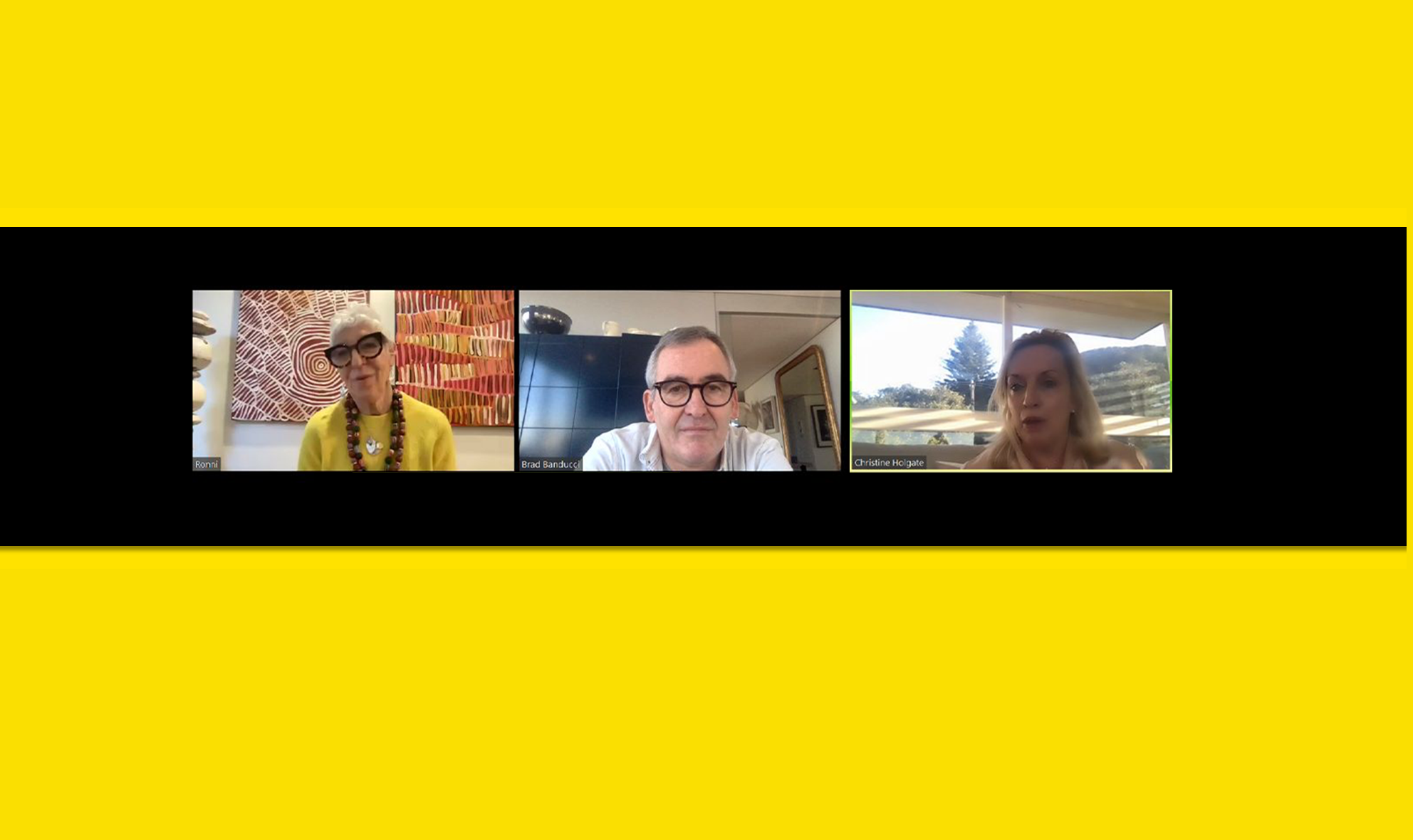 National News
Driven By Purpose – Leadership In Uncertain Times
by OzAdmin
Last week we were thrilled to host two of Australia's top business leaders, Woolworths CEO Brad Banducci and (soon to be) CEO of Global Express, Christine Holgate at an OzHarvest partnership event – Driven by Purpose. Due to Sydney's lockdown, the event was quickly adapted to a breakfast zoom webinar and we were joined by over 250 guests from the comfort of their own lounge with a cup of tea!
An hour flew by as we covered many topics relating to leadership with purpose, especially through these uncertain times.  The conversation was open, honest, raw and real and the tables were turned as Ronni asked the questions, rather than answering them! Here's a write up from one of our wonderful volunteers to share some of the insights and wisdom from the 'Kahnversation.'
It was a Friday evening at the start of the 2020 COVID crisis when Brad Banducci, CEO of the Woolworths Group, called Christine Holgate, then CEO of Australia Post.
"He set me a challenge," said Christine.  "Woolworths wanted to do food boxes for delivery to vulnerable people and his team said it could not be done for a good enough price and quick enough – so I said, "Of course we can Brad."
They talked the next day with their relevant people beside them. By the end of the call, they had a framework. Two days later, it was announced to the public.
That same weekend OzHarvest founder and CEO, Ronni Kahn, was facing a huge dilemma. "I was calling Brad to say my vans are coming back empty and I'm going to need food. It was a Saturday. You called on Sunday and said, "Ronni, Woolworths will look after you". It was that personal commitment that saw us through."
"Those times saw the best of Australia and it was very inspiring to be part of it. That can-do attitude is simply unstoppable. There were so many stories of people working together, with the one shared purpose of doing the right thing by all Australians. Collaborative leadership and collective care are things we should hold onto beyond COVID."
Brad Banducci
Your wounds make you stronger
Ronni posed the question to Christine about her own extraordinary 18 months. "You stand up so proud and strong, representing women, representing yourself. Where does your strength and resilience come from?"
For Christine, it goes a long way back, to a gruelling time when she was an 18-year-old in London. "I learned a lot of hard lessons – what it was like to be on the other side and that has never left me. It's why I'm so passionate about giving back."
When she faced difficult times more recently, Christine believed that knowing she'd been able to survive tough experiences in the past would help her through.
"I didn't know every day that I was going to get through it, I've openly spoken about feeling suicidal at the worst points. In a sense, your wounds make you a stronger and better leader."
In March this year Christine was required to make a submission to a Federal Government Senate inquiry.  She recalled: "I had writer's block on a subject that meant so much to me. Then I heard Brittany Higgins speak on the women's march in Canberra.
"I watched this young girl talk about how she'd been treated. I realised that if I wanted to be a CEO again, if I wanted to lead people, then I actually had to stand up and do something really difficult which was to speak out about something very personal to me."
Speaking out was crucial for her to maintain her personal and professional credibility. "One of my toughest leadership moments was having to look into the mirror and say, "so is this rhetoric or are you going to stand up"
"The day after I gave evidence thousands of people wrote to me, sent me cards and flowers. I wish in a sense I'd known about that before, because that supportive community would have given me much more courage sooner."
Christine Holgate
Leadership with purpose
Their leadership shown during these times was instrumental in serving anxious customers and keeping staff safe while facing unpredictable new business challenges.
Brad's specific purpose was to feed all Australians, particularly the most vulnerable.
"The biggest challenge was to feed the nation – whatever the economic consequence. That was our goal for six months," he said.
Brad found strength and support last year from the hundreds of messages he received each day from customers and team. "I responded to them every day. It really gave me a sense of the heartbeat of the nation," he said.
"There's so much inspiration that comes from the kindness of people and everyday acts, and that's what we're into at Woolworths."
Brad Banducci
In the early period when little was known about the COVID virus Australia Post implemented a strategy of Protect. Serve. Safeguard.
"In March 2020 we thought everything would fall off a cliff, because of what was happening in many other countries," said Christine. "How are we going to stay open, pay our wages, keep people's jobs and keep serving this country?
Then April came and Qantas had to close down and most of our air network went with it.
"Over the Easter weekend we had to set up a chartered airline network and by the Tuesday, we had 18 planes flying around the country carrying parcels. We had to deal with 175% parcel growth!"
Christine was acutely aware of the implications of job and income loss, given 80% of Australia Post's people were self-employed.
"We felt a huge sense of purpose, particularly to regional and remote Australia."
Christine Holgate
Attributes of a leader
Australian Financial Review's 2020 list of the 10 most powerful people in Australian business, ranked Brad No.2 ("Australia's grocer-in-chief") and Christine No.7. This week Woolworths was named Australia's most trusted brand in 2021 by Roy Morgan.
Answering what attributes they brought to their organisations and whether purpose was part of it, Brad replied: "It wasn't me. It was Woolworths, and it was because of purpose.
"I'm lucky enough to be the figurehead for a team. They achieved everything that we set out to do, and actually we did it in partnership, with Australia Post, DHL and with Coles, Aldi and Metcash.
"It was a reflection on all the businesses and the way we lived our purpose – to create better experiences together for a better tomorrow. And we did, we just changed "better together" to mean everyone, not just the folks inside Woolworths. Collectively we got the recognition."
Christine said: "Brad and I were lucky to lead two immensely important organisations through a crisis so even though our names might be on that list it was our organisations and our people.
"One thing I'm most proud is the courage of the people at Australia Post. Brad's people and our people went to work every day not knowing if COVID was on the other side of the door if they rang the doorbell. They worked on the tills even though they had no idea who was coming in."
The teams of all three organisations continue to work on the frontline, as the threat of COVID continues.
"Our drivers never missed a beat and were out on the road every day, while our chefs continued to cook thousands of meals. We have huge gratitude for the people who do the extraordinary frontline work."
Ronni Kahn
Personal purpose
For Christine, food and health are global essentials. "Without food and your health, you have nothing. She'd like to see the world more generous so everyone can get vaccinated. "I hope we can reach out and share."
Brad's passion concerns food and hunger. "At a Woolworths level, it's community. What we talk most about is care. How we show care, food is part of it. In many communities, we have customers whose only contact each day are the people in our store."
He believes in humility and suppressing the ego. "All great leaders share the common thread of openness and authenticity."
For Christine inspirational leaders are constantly learning and working to be better.
Mental health and wellness, both for yourself and for others are priorities. "We need to normalise talking about it," said Brad. "At Woolworths, for example, we have our I Am Here wellbeing program."
To switch off, Brad looks to yoga with music, while for Christine it's the appeal of a relaxing bath with no mobile around or walking as a "moving meditation" and a time to reflect.
And both are big fans of Ronni "We're here today because of you," they both agreed with big smiles.
Wrapping up the virtual event, Ronni thanked Brad and Christine for their honesty, humility, and leadership wisdom.  "We've received so many positive messages from the audience today, including one who felt like she was having a chat in her lounge with three friends!"
Driven by Purpose was originally planned as a partnership event for OzHarvest supporters to be hosted at the Sofitel Hotel in Sydney. 
Words by a wonderful OzHarvest volunteer Michele Ferguson.
Visual story created by Kathryn Baulch courtesy of CapGemini. View the Visual Story Board PDF.