Volunteer
We would not be able to operate without the countless hours that our volunteers donate, fondly known as the 'yellow army'. We are lucky enough to have 3,300 dedicated people across the country supporting our cause.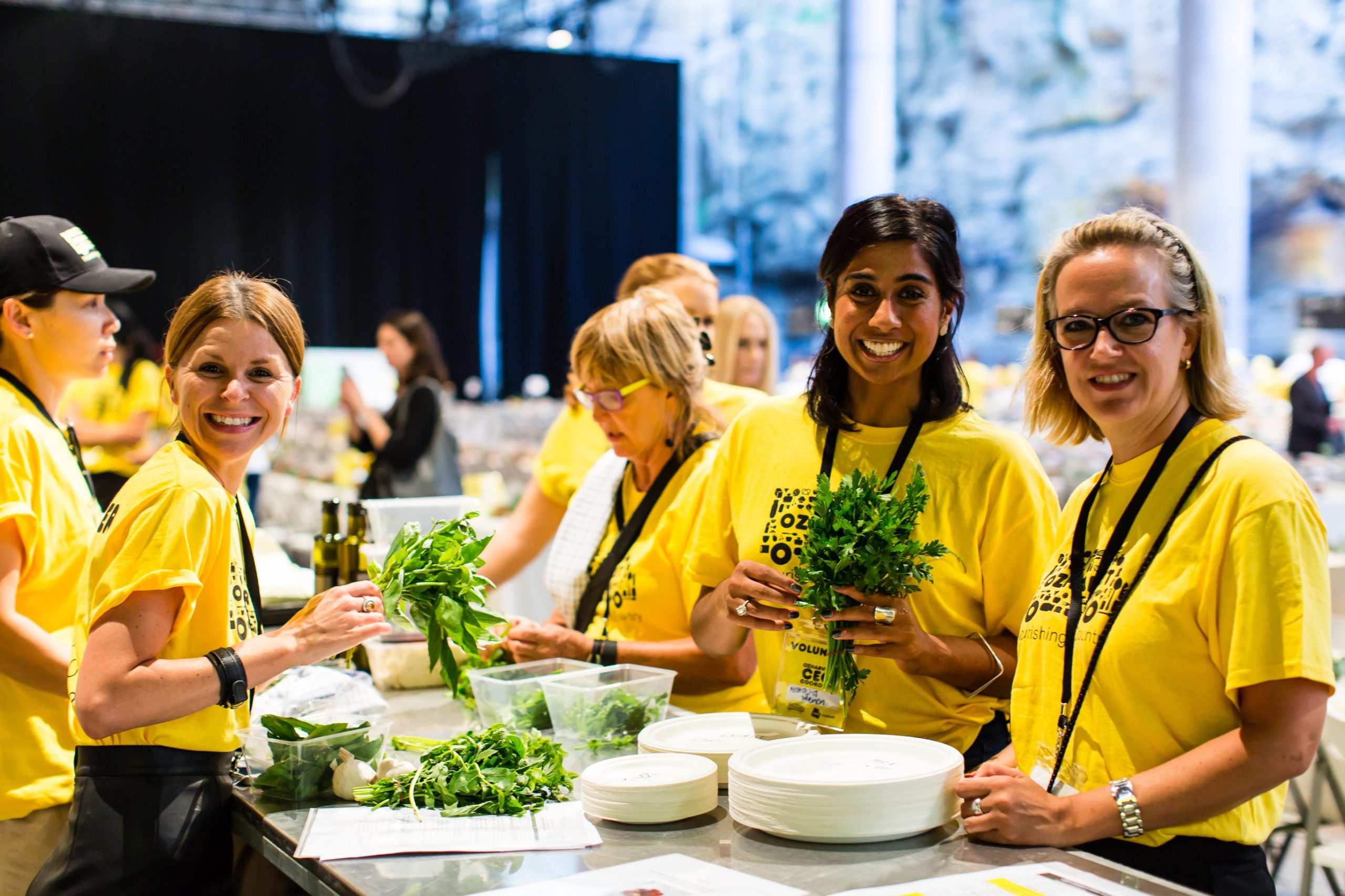 Volunteer Waitlist
We're fortunate to have so much interest in our volunteer program that we're actually at full capacity at these OzHarvest chapters:
Adelaide, Brisbane, Gold Coast, Melbourne, Newcastle and Sydney.
We are currently doing our best to induct and train all of our newest volunteer family members (joining a pool of 3,000 awesome individuals!) In the meantime, you can check out the types of volunteer activities on offer in the presentation below to get up to speed on our awesome opportunities within the yellow army.
Register your interest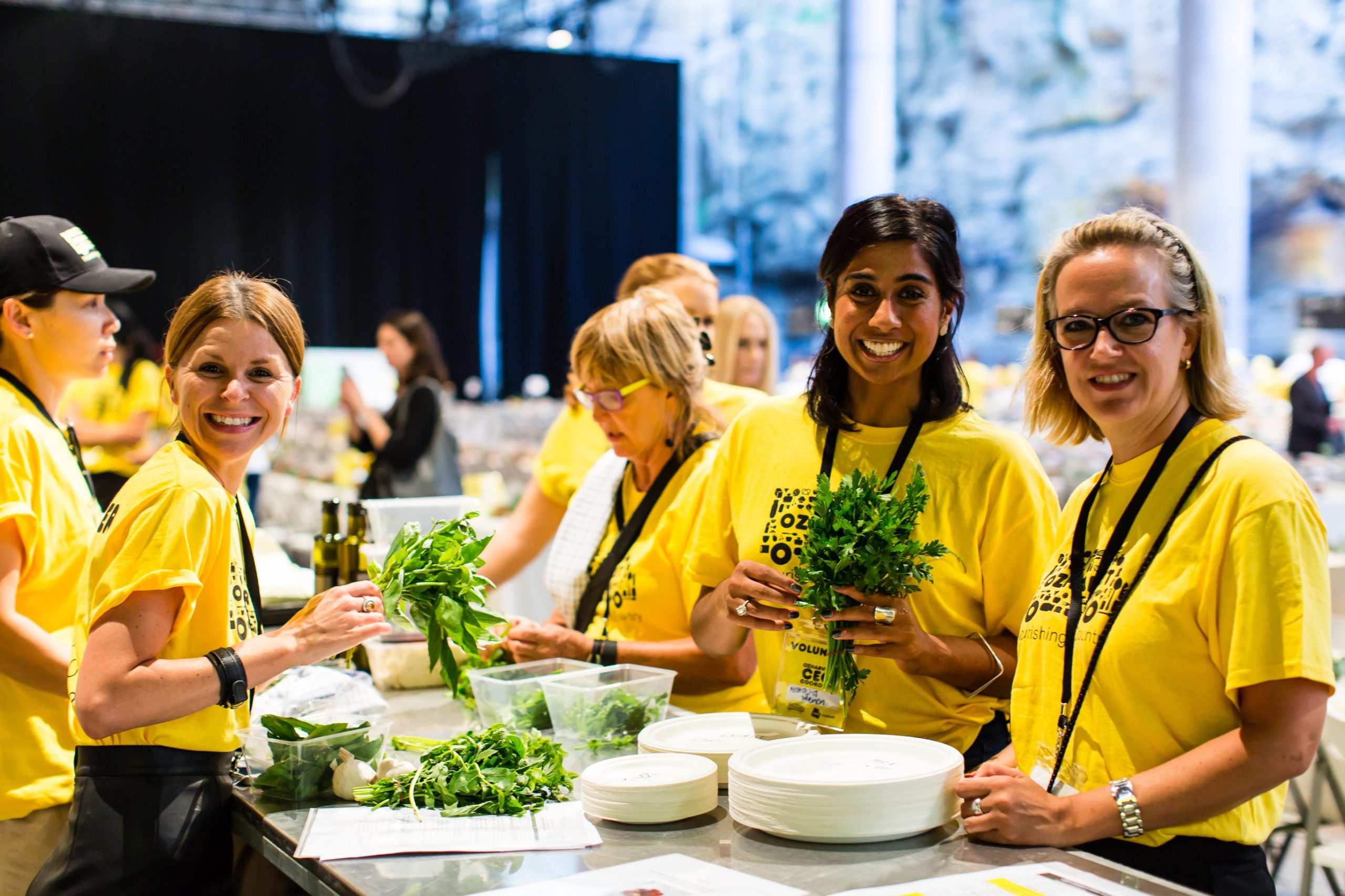 Volunteer FAQs
The information session is your opportunity to learn in more detail about the work we do, and the various volunteer roles available. We feel it is important to meet all our prospective volunteers, and to give you as much information as possible so you're able to make the most informed decision regarding joining our family. This is also a great opportunity for you to get to know us and ask questions!
Each OzHarvest location has unique approval requirements for volunteers, however all volunteers must complete Manual Handling training which is provided free of charge, and most locations also require a Police Check. If you have any questions regarding the approval requirements, you can contact your local volunteer coordinator, or email [email protected]
There are a few costs associated with volunteering, which can include:
Volunteers to provide their own police check, at their own cost (OzHarvest has partnered with 'Intercheck Australia' for volunteers to obtain their checks for a discounted price of $19.95 (incl GST), though volunteers are welcome to obtain their check through any means they prefer.
Volunteers that hold existing police checks issued within the past 3 months can submit this and may not be required to obtain a new check.
An administration contribution to OzHarvest for all volunteers to cover our costs in providing volunteers with the required uniform. This cost varies depending on location, but is never more than $20.
If these costs would present a financial challenge, please contact your local volunteer coordinator, or email [email protected].
All volunteers are required to wear an OzHarvest T-shirt and closed toed shoes, with the exception of those who are volunteering at an OzHarvest office, in which case we ask volunteers to please wear business or smart casual clothing. The cost for our OzHarvest Volunteer T-Shirt is included in the above administration fee.
Yes. OzHarvest offers a variety of volunteer opportunities and volunteers are asked to supply a reference in the volunteer application fee. Volunteers must also consent to a Police and Criminal History Check, and those who will be volunteering in an education program will also need to have a Working With Children Check.
The Volunteer Coordinator will conduct and/or oversee this process. Once complete, volunteers will receive a copy of their police report, which may be helpful for future use. Any adverse outcomes revealed in this check will be discussed with volunteers as they arise and may impact on a volunteer's suitability for volunteering.
OzHarvest utilises the invaluable time, skills and experience of many of volunteers every day. Our volunteers are able to participate as often or as little as they wish, with the exception of our OzHarvest Market in Waterloo, where volunteers are limited to a maximum of two shifts per week. As a guide, many of our volunteers tend to do so once or twice a week, or others just once a month or so, to fit with their schedules.
Yes, all OzHarvest education programs require volunteers to undergo specialised volunteer training, which is conducted on an as-needed basis a few times a year. Additionally, some volunteer programs may require you to shadow an existing volunteer at a trial shift before you are able to register for future shifts.
OzHarvest is excited to offer limited volunteer opportunities for youths aged 14-17 years. Activities available vary by location, so if you'd like to know more about potential opportunities before submitting a volunteer application, please email [email protected]
Yes! Selected OzHarvest locations are able to accommodate Duke of Edinburgh participants. Please email [email protected] for more information.