SA News
Great Food Rescue Race Raises almost $65,000
by OzAdmin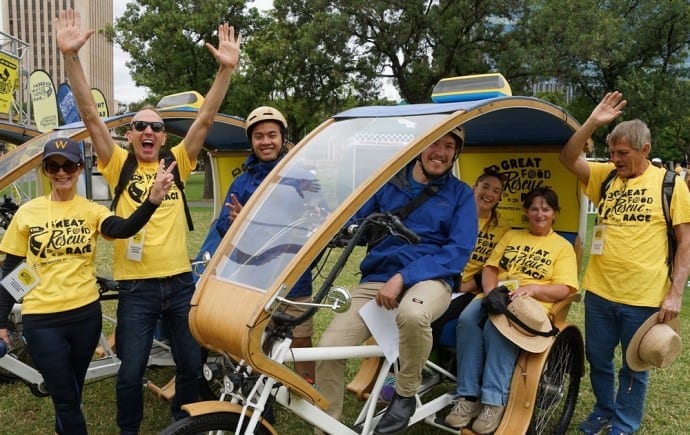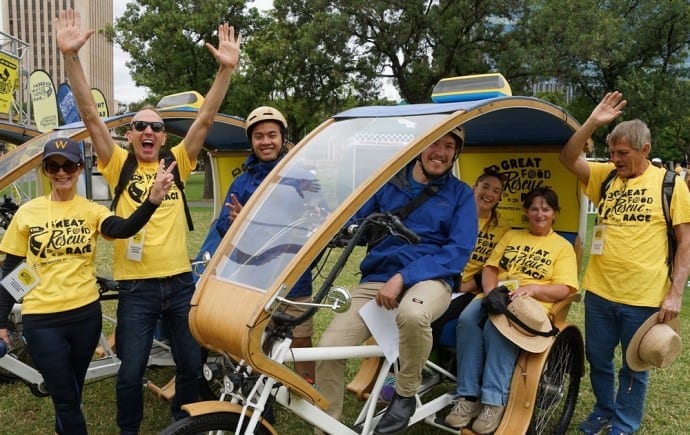 SA News
Great Food Rescue Race Raises almost $65,000
by OzAdmin
The heart of Adelaide was painted yellow whilst fifteen teams, from charities to local businesses, took part in the third edition of OzHarvest SA's Great Food Rescue Race 2017.
Competing to reach the finish line located in Victoria Square, race participants spent the afternoon celebrating Adelaide's food culture and raising funds through a series of cooking, nutrition and food-rescue themed challenges around the CBD. Almost $65,000 was raised, which will help OzHarvest provide nearly 130,000 meals to South Aussies doing it tough.
From identifying sustainable seafood choices in the Adelaide Central Market, to rescuing surplus Odd Bunch fruit & veg from Woolworths and delivering this to a nearby charitable organisation and to learning about food waste reducing preservation methods like fermentation, participating teams had a great afternoon tasting and learning about all things related to food waste, food rescue and food sustainability.
For the first time there were three race stations in Rundle Mall, bringing a vibrant yellow buzz and attracting public interest and engagement. Whilst competitors' tastebuds, food knowledge and fitness were put to the test, the public peddled themselves a smoothie, tasted delicious local foods and helped themselves for fresh fruit or veg for a small donation.
"The third Great Food Rescue Race was a great success and it was fantastic to experience the enthusiasm and energy of all the competing teams" said OzHarvest SA State Manager, Kristian Lee Nesbitt.
"The fundraising efforts of the teams involved in this year's Great Food Rescue Race were truly phenomenal, with the leading team raising around $9,000! Although it's a day of fun, the event highlights the importance of redistributing surplus food to reduce food waste and to help people in need. We love that we can share this important message in such a fun and engaging way to the wider public." said Kristian.
There were three winning categories, including:
Highest fundraisers – Benevolent Baguettes: The Salopian Inn McLaren Vale's Team Salopian
Highest point score – Clever Carrots: The Salopian Inn McLaren Vale's Team Salopian
Fastest Team – Nimble Noodles: Woolworths' Team Zone 1 – All Stars
After an action-packed day, competitors, sponsors, supporters and volunteers devoured delicious food prepared by our wonderful Nourish Students from our Yellow Family while listening to great tunes from Hit107.
We give our greatest thank you to all our sponsors and supporters! Major Sponsor Carbon Neutral Adelaide, AV Sponsor Haycom, Supporting Event Sponsors Eat Local SA, The University of Adelaide and Woolworths and Event Supporters Adelaide Central Market, Barossa Valley Brewing, Botanic Gardens of South Australia, COAL cellar + grill, Common Ground, EcoCaddy, Hit 107!, Hither & Yon, JP Media, Kytons Bakery, National Wine Centre, Rundle Mall Management Authority, Pirate Life Brewing, Santos, St John and The Big Issue.
Also a big round of applause to our many volunteers, corporate volunteers and Nourish students who helped out on Race Day!
For more details on the race visit: www.greatfoodrescuerace.com.au
For photos from the day visit: https://www.facebook.com/ozharvest/posts/10155620638606539