SA News
South Australians Unite To Race For Food Rescue
by OzAdmin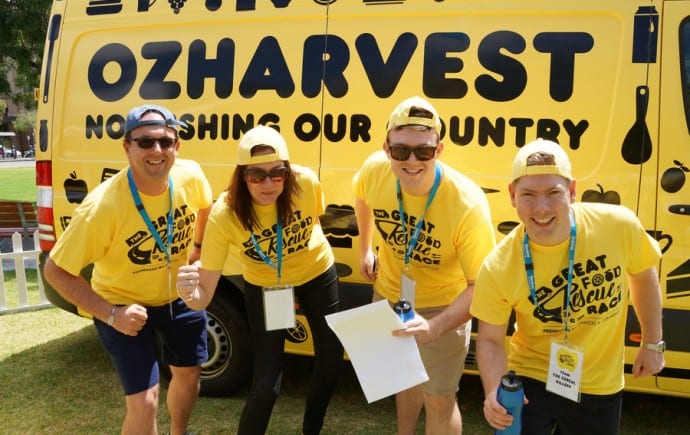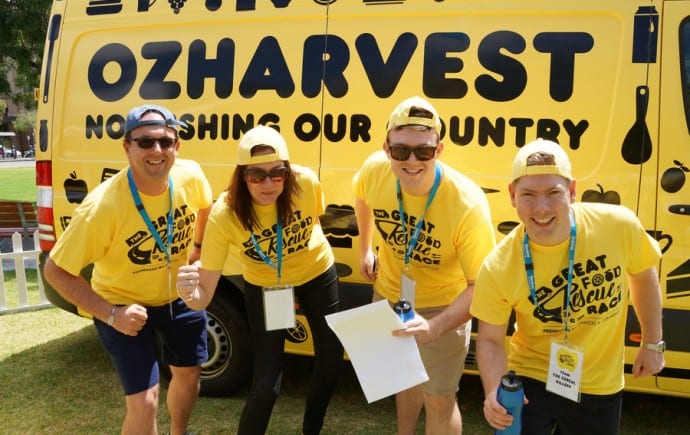 SA News
South Australians Unite To Race For Food Rescue
by OzAdmin
The Great Food Rescue Race by Santos and OzHarvest is a new signature event in South Australia – a food themed foot race through the Adelaide CBD. Registered teams will compete in a pressure-cooker series of challenges across the city centre while celebrating Adelaide's food culture and raising funds that will help OzHarvest rescue and deliver more good nutritious food in our community.
Registered teams include teams from Ernst and Young, 360 Private Wealth by Design, Kytons, SA Power Networks, MRS Property, University of Adelaide and Santos, and also private individuals.
Event Sponsors include Principle Event Partner Santos, with Andres Cucina, Abigwig advertising and digital, Haycom, Hilton Adelaide, Saskia Beer, Splash Adelaide, Tuckers Natural, Community Benefit SA, Barossa Valley Brewing, Channel 44, Hither & Yon. Event Partners include Adelaide Oval, Adelaide Central Market, Brand South Australia, Common Ground, The Productive Garden Co., Migration Museum, St Lukes, OTR | On The Run and Ecocaddy.
Tuckers Natural are sponsoring a Pre-Race Fundraising Kit involving their delicious range of crackers and snacks, offered to teams after registrations closed on Monday October 26th.
Ecocaddy are giving a head start on race day to the team that raised the most funds before the race – they will get a free ride to their first race station!
At the finish of the event, there will be a short celebration in Victoria Square for participants with light food by Andre's Cucina and Saskia Beer Farm Produce, Wines by Hither & Yon and Beer by Barossa Valley Brewing.
Identities featuring during the race include Matt Gilbertson (MC), Keith Conlon, Andre Ursini, Saskia Beer, Rosa Matto, Laura Cassai, Bree May, Jessie Spiby, Rose Adam and Dougal McFuzzlebutt.
Each week – with three vans on the road from Aldinga to Gawler – OzHarvest in South Australia collects more than 50 tonnes of good quality surplus food that would otherwise end up in landfill and delivers this food to more than 100 charities that feed people in need. To date this for-impact organisation has delivered more than 3.6 million meals to those in need in South Australia and saved more than 1.2 million kilos of good quality food from ending up in landfill. The demand for OzHarvest services remains extremely high and growing.
In launching The Great Food Rescue Race, Santos' Community and Corporate Social Responsibility Manager Beth Worrall said "Santos is pleased to support the great work of OzHarvest through this fantastic inaugural community event and shine some light on food rescue, and what it means for vulnerable men, women and children across Adelaide".
State Manager of OzHarvest SA, Hayley Everuss, said that it will be a fantastic experience with a genuinely impactful result, and encouraged the entire South Australian business community to get behind the fundraising efforts of the registered teams.
"We know that poverty and food insecurity is a reality in South Australia, as it is right across the country. Two million Australians rely on food relief each year while some $8 to $10 billion worth of food is wasted. 3
"While the amount of food that we are rescuing each week continues to grow, so too does the demand for our services. We have 25 charitable agencies on our wait-list for new deliveries and we get more enquiries every week.
"Adelaide has such an embracing and pervasive food culture, this special event is a way for people to connect with that for the benefit of those less fortunate amongst us", said Everuss.
Anyone can still get behind the event by supporting their favourite team in the Great Food Rescue Race – go to www.greatfoodrescuerace.com.au and hit 'support a team'. Team registrations were just $250 (inc. GST) for a team of five and all teams have been fundraising as part of their entry.
Every $1 donated means that OzHarvest can deliver the equivalent of two meals.
Event details:
What: Great Food Rescue Race presented by Santos & OzHarvest
When: Friday 6 November, 2:00pm – 6:00pm
Where: Victoria Square (South) and through the CBD Why: To feed vulnerable South Australians and raise money for people in need
Info: Great Food Rescue Race
The Department for Communities and Social Inclusion has contributed funds towards this project.
For interview and photo opportunities including sponsors, identities, please contact:
Jane Evans at OzHarvest | [email protected] | 0400 362 275
Connect with us OzHarvestSA via Instagram, Twitter or Facebook
Get social by using the hashtag #GreatFoodRescueRace #Santos #OzHarvestSA
Note to Editors
Food Rescue Facts Available.