Think.Eat.Save
OzHarvest successfully feeds thousands using surplus at Think.Eat.Save events
by OzAdmin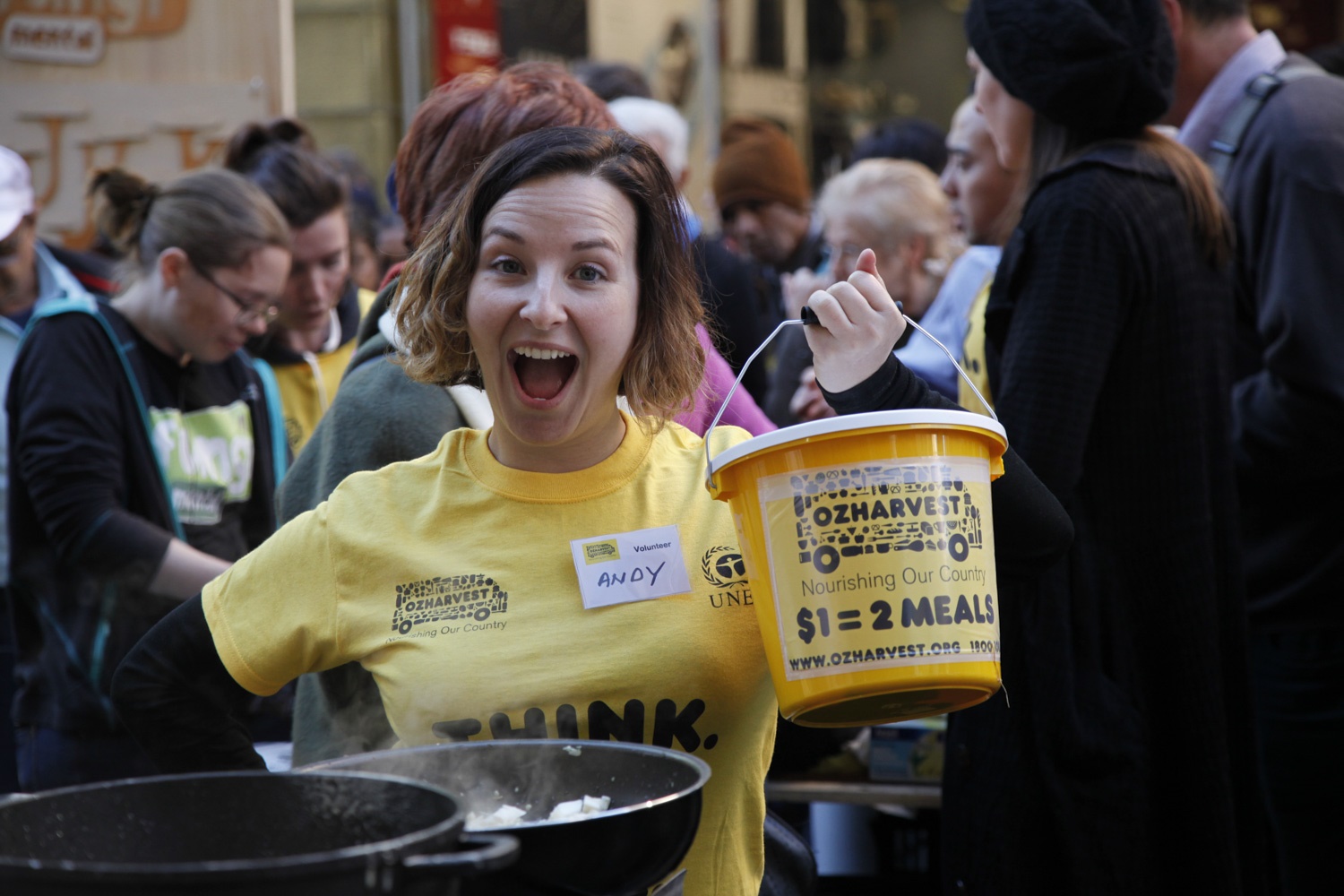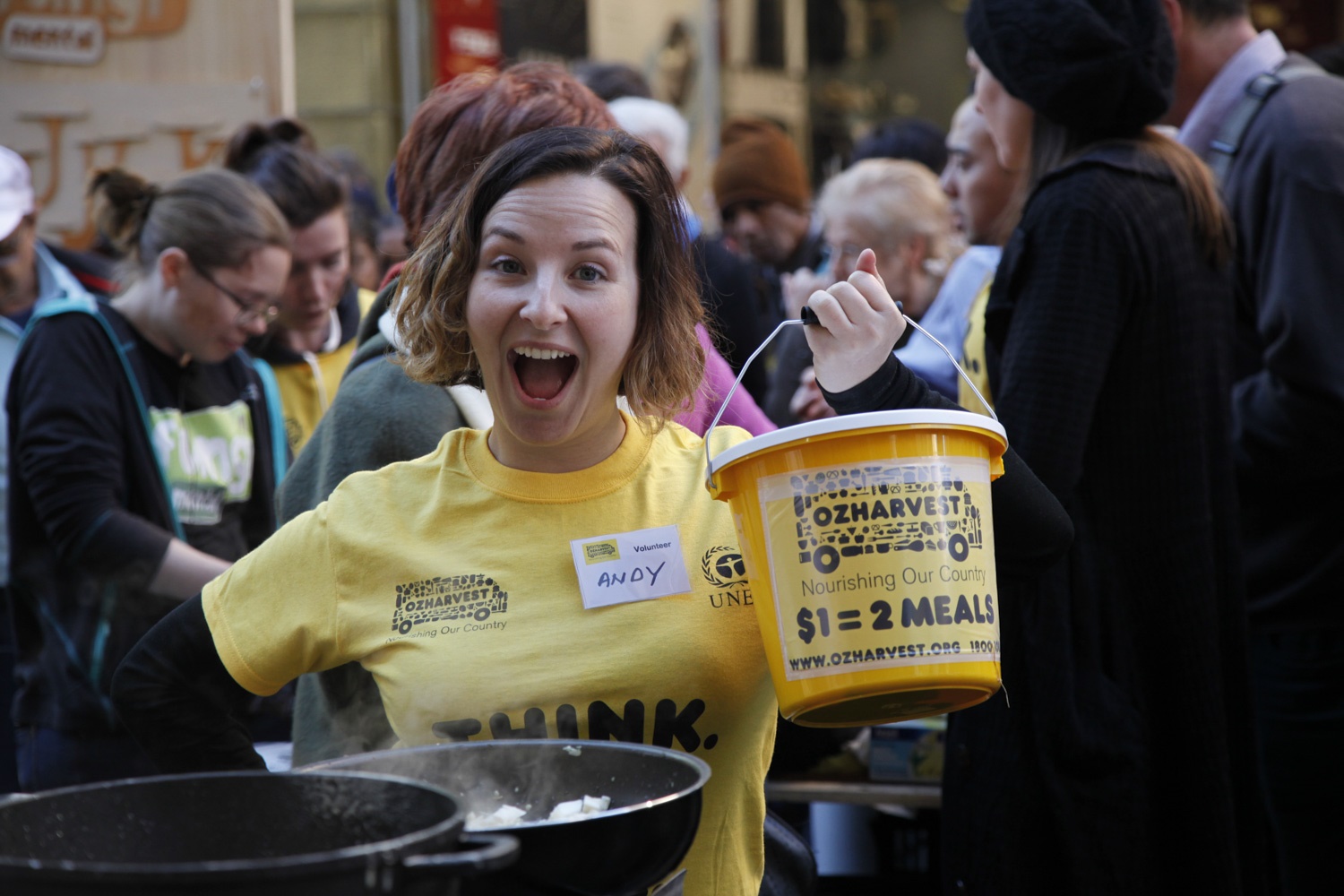 Think.Eat.Save
OzHarvest successfully feeds thousands using surplus at Think.Eat.Save events
by OzAdmin
OzHarvest successfully feeds thousands using surplus at the United Nations Think.Eat.Save events to fight food waste
Australia's leading food rescue organisation, OzHarvest fed up to ten thousand people across Sydney, Brisbane, Adelaide, Melbourne and Newcastle yesterday at the Think.Eat.Save events; a collaboration with the United Nations to tackle the issues of food and nutrition security and sustainable food systems.
Taking place at Martin Place in Sydney, St Stephen's Cathedral in Brisbane, Federation Square in Melbourne, The University of Adelaide as well as Hunter St Mall in Newcastle, the events were a collaboration with the United Nations Environment Program (UNEP) and the UN's Food Agriculture Organisation (FAO) Global Initiative on Food Loss and Waste Reduction (SAVE FOOD).
Some of the nation's top chefs including Neil Perry, Guillaume Brahimi, Matt Moran, Frank Camorra, Somer Sovrioglu, Cory Campbell, Josue Lopez and Callum Hann, as well as politicians and celebrities united at each of the events to take a stance against food waste.
Members of the public were served a free, delicious and hearty hot meal made from surplus produce that would have otherwise ended up as landfill.
Food waste is currently costing Australians up to $10 billion each year, while two million people still rely on food relief.
Founder and CEO of OzHarvest, Ronni Kahn said the aim of Think.Eat.Save 2014 was to bring attention to the disturbing amount of food wasted in Australia and around the world, where roughly one third of food produced for human consumption (approx. 1.3 billion tonnes) gets wasted and lost[1] along the way.
"Our modern day challenge is to create a sustainable food culture that can be shared by all, where we waste less at all levels of food production, distribution and consumption," Kahn said.
"I'm thrilled that so many people came to our events, not just for the free lunch but to hear about how they can make a positive contribution and reduce food waste. Outside of Think.Eat.Save, each and every one of us can make a pledge to reduce food waste at home. Small actions can affect change and united, our actions will make a huge positive impact on our planet. "
Renowned gardening personality, Costa Georgiadis took part in a panel discussion around food waste and food sustainability and encouraged people to learn more about the source of their food.
"Food and waste are two words that OzHarvest are using in the one sentence. If we want to change our appreciation of food and reduce the amount of food wasted, we need to get to know exactly what it is we're buying and eating. Make food your friend, not a stranger," said Georgiadis.
For more information on OzHarvest please visit www.ozharvest.org
Follow us on Twitter @OzHarvest or Facebook or call 1800 108 006
Social media tags: #ozharvest #thinkeatsave
@UNEP #SaveFood #UNFAO #FoodWaste
@FAOKnowledge @FAOnews @save_food_news
For photos from the 2014 Think.Eat.Save events please click here: https://www.flickr.com/photos/[email protected]/sets/
To view the 2014 Think.Eat.Save video click here: https://www.youtube.com/watch?v=dz68VCw3D-M
For more media information, images or interviews with Ronni Kahn, Founder and CEO of OzHarvest, or panel experts please contact:
Louise Tran at OzHarvest on [email protected] | +61 2 9516 3877 | +61 466 620 744
Sascha Ryner at Liquid Ideas on [email protected] | +61 2 9667 4211 | +61 416 858 419
Local food facts
Global food loss and waste facts
Roughly one third of the food produced in the world for human consumption every year — approximately 1.3 billion tonnes — gets lost or wasted.[6]

Every year, consumers in rich countries waste almost as much food (222 million tonnes) as the entire net food production of sub-Saharan Africa (230 million tonnes). [7]
Food loss and waste also amount to a major squandering of resources, including water, land, energy, labour and capital and needlessly produce greenhouse gas emissions, contributing to global warming and climate change. [8]
While the planet is struggling to provide us with enough resources to sustain its 7 billion people (growing to 9 billion by 2050), FAO estimates that a third of global food production is either wasted or lost. Food waste is an enormous drain on natural resources and a contributor to negative environmental impacts.
If food is wasted, it means that all the resources and inputs used in the production of all the food are also lost. For example, it takes about 1,000 litres of water to produce 1 litre of milk and about 16,000 litres goes into a cow's food to make a hamburger. The resulting greenhouse gas emissions from the cows themselves, and throughout the food supply chain, all end up in vain when we waste food.
Given this enormous imbalance in lifestyles and the resultant devastating effects on natural resources and the environment, this year's theme – Think.Eat.Save – Reduce Your Foodprint – encourages you to become more aware of the impacts of your food choices and empowers you to make informed decisions.
For more information visit www.thinkeatsave.org
About FAO
Achieving food security for all is at the heart of FAO's efforts – to make sure people have regular access to enough high-quality food to lead active, healthy lives. FAO's three main goals are: eradication of hunger, food insecurity and malnutrition; elimination of poverty and the driving forward of economic and social progress for all; and, sustainable management and utilization of natural resources, including land, water, air, climate and genetic resources for the benefit of present and future generations. Visit: www.fao.org 
About SAVE FOOD: Global Initiative on Food Loss and Waste Reduction In May 2011 FAO launched the Global Initiative on food loss and waste reduction (also called SAVE FOOD Initiative) as a corporate effort together with the private sector trade fair organizer Messe Düsseldorf GmbH (Germany). SAVE FOOD works in partnership with donors, bi- and multi-lateral agencies, financial institutions, public, private sector and civil society for: (i) Awareness raising; (ii) Collaboration and coordination of world-wide initiatives; (iii) Evidence-based policy, strategy and programme development, including a methodology for assessing food loss; (iv) Technical support to investment programmes and projects. UNEP joined SAVE FOOD by launching the Think.Eat.Save Campaign in January 2013. Visit: www.fao.org/save-food
In August 2013 the FAO Regional Office for Asia and the Pacific launched the SAVE FOOD Asia-Pacific Campaign in Bangkok, Thailand. Strategic action areas identified through consultations: awareness raising, the relevant role of the private sector and support mechanisms by governments in order to facilitate smallholder effective organization along with the role played by consumers. Visit: https://www.savefood.net/
About the FAO-UNEP Sustainable Food Systems Programme
The FAO/UNEP sustainable food systems program is catalysing partnerships among United Nations agencies, governments, private sector and civil society to promote activities that improve the sustainability of food consumption and production. Visit: https://www.fao.org/ag/ags/sustainable-food-consumption-and-production/en 
In June 2012 on the occasion of the United Nations Conference on Sustainable Development (Rio+20), the U.N. Secretary General launched the Zero Hunger Challenge[9] which includes addressing sustainability of all food systems and the aim of zero food loss and waste. The Committee on World Food Security (CFS)[10], the foremost intergovernmental body for food security and nutrition, at its thirty-ninth Session (October 2012), requested its High Level Panel of Experts on food security and nutrition (HLPE)[11] to prepare a report on Food losses and waste in the context of sustainable food systems to inform the discussions in Plenary in October 2014. In May 2014 HLPE released the summary and recommendations of its report[12].