ACT News
Vikings Group kicking goals for OzHarvest Canberra!
by OzAdmin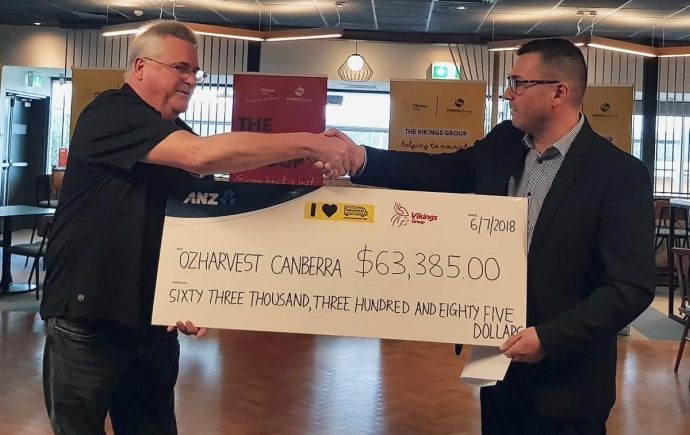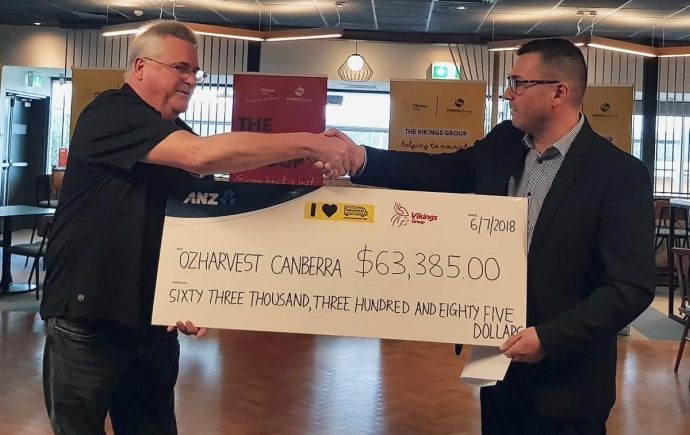 ACT News
Vikings Group kicking goals for OzHarvest Canberra!
by OzAdmin
Vikings Group has pledged to raise $60,000 for OzHarvest Canberra over the next 12 months, as well as donate 1000 cans of non-perishable food. The pledge will support OzHarvest in their mission to eliminate hunger and educate the Canberra community about food waste and how to prevent it.
OzHarvest is Vikings' second Charity of the Year, following on from Red Nose. After a successful first year running the program, Vikings Group CEO Anthony Hill is trilled to continue the growing tradition.
"Providing any help to local charities has been a pleasure for Vikings, we're grateful to make any difference we can. We chose OzHarvest as our new Charity of the Year because it contributes greatly to the local community, and also touches on key issues such as hunger and food wastage." Anthony says.
The program will see a variety of initiatives run throughout the year including food drives, Vikings restaurant food donations and game day soup kitchens.
"This is more than just a one off donation, it's about building a lifelong and strong partnership with a local charity." Anthony says.
On average, Australians throw away $8-10 billion of food every year, which equates to approximately $1,036 worth of groceries a year for one household. At the same time, there are still two million people across Australia who rely on food relief every year.
OzHarvest operates across Australia, and since 2004, has saved more than 20,000 tonnes of food from waste. Its food rescue initiatives have supported over 900 charities and delivered 60 million meals to those in need.
Dave Burnet, OzHarvest ACT Territories Manager, is grateful for the opportunity to work with Vikings Group and looks forward to the year ahead.
"This is a great opportunity to partner with a fantastic organisation. Vikings' history in supporting charities such as ours gives us hope that through this partnership we can continue our work amongst the local community, and across Australia," he said.