CEO CookOff News
CEOs and top chefs unite at CEO CookOff 2015
by OzAdmin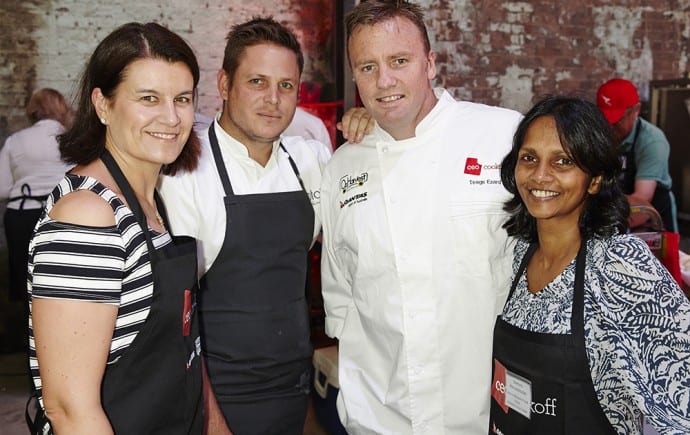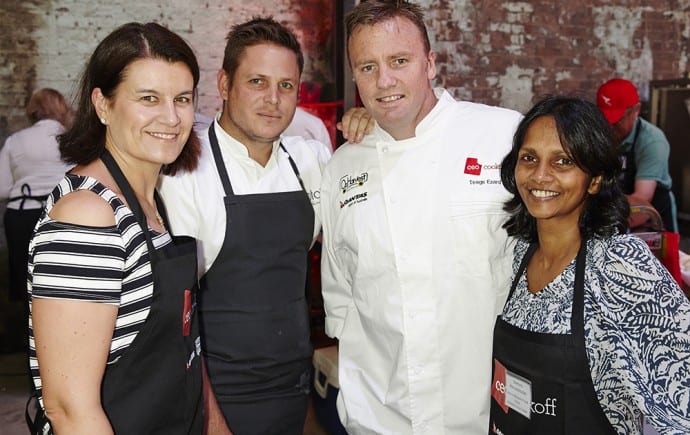 CEO CookOff News
CEOs and top chefs unite at CEO CookOff 2015
by OzAdmin
Forty of Australia's top chefs with a combined 38 Chefs' Hats awarded to their restaurants, will unite with more than 100 business leaders on Monday, 2 March 2015 at Carriageworks, Eveleigh to cook for 1,000 vulnerable Sydneysiders.
In its fourth year, the OzHarvest CEO CookOff is an annual event aimed to increase awareness of food insecurity, homelessness and food wastage in Australia. To date, the unique charity event has raised more than $3 million dollars for OzHarvest along with other Australian charities.
CEOs and senior business executives from across the country are encouraged to register alongside an exceptional line up of chefs including Matt Moran, Maggie Beer, Shannon Bennett and Peter Gilmore. CEO leaders including Ernst & Young CEO Tony Johnson, Macquarie Head of Personal Banking Tony Graham, HOSTPLUS CEO David Elia, TFE Hotels CEO Rachel Argaman and TABCorp CEO David Attenborough will be guided to cook and prepare a three-course meal and feed 1,000 homeless and disadvantaged Sydney residents in one night.
This year's mouth-watering menu includes a shared antipasto platter with Brasserie Bread and a signature main course designed by each chef, to be plated up and served to guests by the CEOs. Desserts will be donated by award-winning Black Star Pastry and guests will also be treated to delectable Messina ice-cream alongside a cup of Vittoria coffee to finish.
Each week OzHarvest collects more than 70 tonnes of good quality surplus food that would otherwise end up in landfill and delivers this food to more than 600 charities that feed people in need. To date this for-impact organisation has delivered more than 30 million meals to those in need and saved more than 10 million kilos of good quality food from ending up in landfill.
CEO and Founder of OzHarvest, Ronni Kahn, encouraged the entire business community to get behind the fundraising efforts and set an example as leaders of corporate social responsibility.
"We know that poverty and food insecurity exists in this country and that two million Australians rely on food relief each year. At the same time $8 to $10 billion worth of food gets wasted.
"As one of the wealthiest nations in the world, we must address these issues and do our bit to eliminate hunger and food waste. At this special event we are proud to see business leaders from all industries come together to support those in need and truly make an impact," says Kahn.
Anyone can support the cause by donating to their favourite CEO or chef. Every $1 donated means that OzHarvest can deliver the equivalent of two meals.
To REGISTER OR DONATE simply go to www.ceocookoff.com.au and sponsor a CEO or chef.
Event details:
What:                  OzHarvest CEO CookOff
When:                 Monday, 2 March 2014 from 5.30pm to 10.30pm
Where:                Carriageworks, 245 Wilson St, Eveleigh NSW
Why:                    To feed vulnerable Sydneysiders and raise money for Australians in need
For interview and photo opportunities with chefs, CEOs or Ronni Kahn, please contact:
Frankie Gallucci at Liquid Ideas | [email protected] | 02 9667 4211| 0400 155 958
Louise Tran at OzHarvest | [email protected] | 02 9516 3877 | 0466 620 744
Georgie Hartigan at OzHarvest | georgie.hartigan @ozharvest.org | 02 9516 3877 | 0419 620 866
Connect with us via LinkedIn, Instagram, Twitter @OzHarvest or Facebook
Get social by using the hashtag #CEOCookOff
NOTE TO EDITORS
·         Saved more than 10,000,000 kilos of good quality surplus food from landfill
·         Delivered the equivalent of more than 30 million quality nutritious meals to people in need
·         Stopped more than 19,000 tonnes of carbon emissions being released from landfill
·         Stopped more than 1.4 mega litres of water from being wasted (that's more than 500 Olympic-sized swimming pools!)
·         Rescued food from more than 2,000 generous food donors
·         Delivered quality surplus food to more than 600 recipient charities that feed thousands of vulnerable men, women and children
·         OzHarvest operates in Sydney, Adelaide, Brisbane, Canberra, Gold Coast, Melbourne, Newcastle, Perth and in regional areas via their REAP Food Rescue program
·         OzHarvest is the official Australian partner of the United Nations Environment Program (UNEP) global Think.Eat.Save campaign
·         Australians throw out $8-10 billion of food every year. As a nation we waste four million tonnes per annum of food which ends up in landfill[1]
·         Australians throw out one out of every five shopping bags, which equates to every Australian household throwing out $1,036 worth of groceries each year[2]
·         Today, 2.5 million Australians are still living in poverty[3]
[1] Foodwise, www.abc.net.au/news/2013-10-08/food-waste-value-australia/4993930
[2] Food Waste Avoidance Benchmark Study 2009
[3] ACOSS, 2014